THE FIRST IN THE GENERATIONS ONE-SHOTS SERIES, THE STRONGEST UNITES AMADEUS CHO AND BRUCE BANNER AS THE HULKS FIGHT THE ENEMIES OF BANNER'S EARLY DAYS. BUT WHAT THIS HAS TO DO WITH SECRET EMPIRE AND LEGACY IS UNCLEAR, HOWEVER. MARVEL'S GENERATIONS SUPPOSEDLY UNITES THE LEGACY CHARACTERS AND THEIR COUNTERPARTS TOGETHER, BUT WHY THIS IS A MUST-READ ISN'T EXACTLY CLEAR. AS GENERATIONS TAKES PLACE IN THE VANISHING POINT, A CONTINUITY FREE, SEEMINGLY DIFFERENT UNIVERSE THAN THE MAIN UNIVERSE, EXCEPT ALL THE HEROES ARE JUST STARTING OUT…
CONFUSED???
SO THIS IS THE MESSAGE WE GET IN THE CREDITS PAGE. SO WE KNOW SECRET EMPIRE #10 IS ABOUT THE VANISHING POINT AND THIS DESCRIPTION SEEMS TO HAVE ONE THING COME TO MIND. CHECK THIS OUT: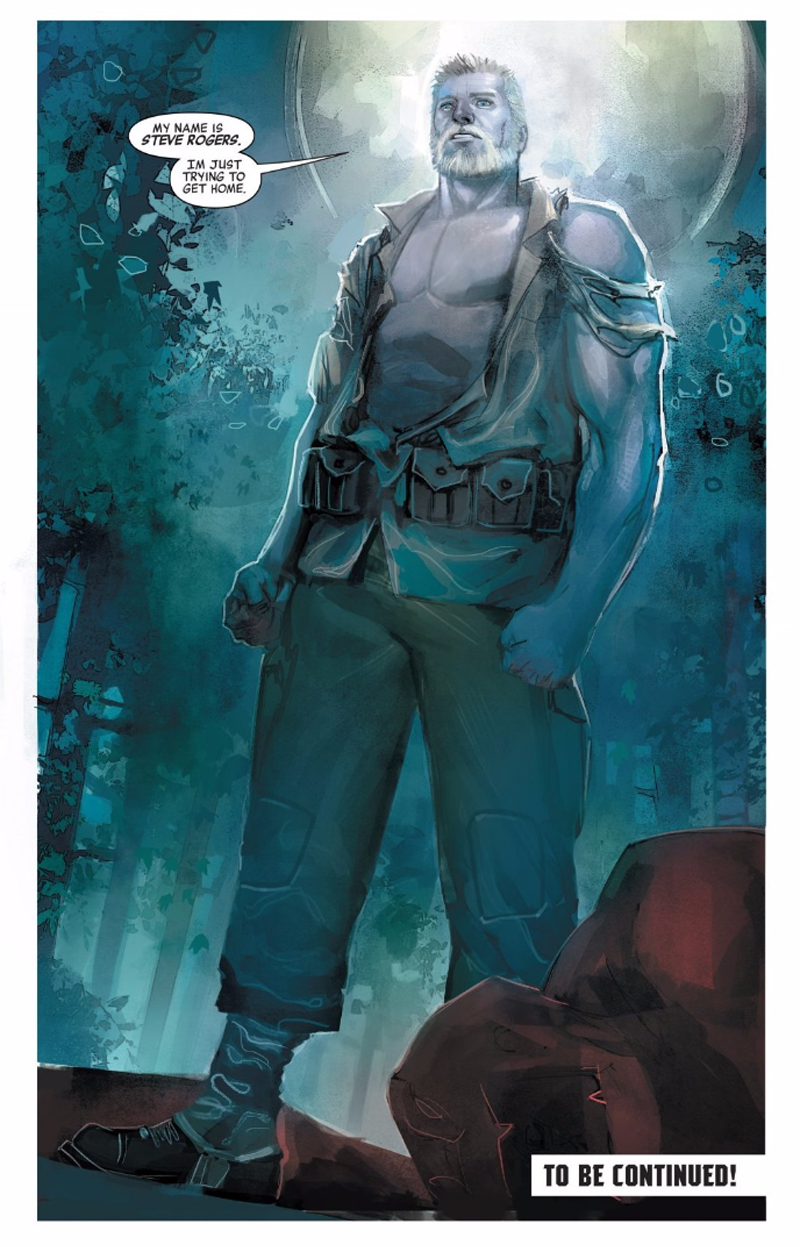 IN SECRET EMPIRE, WE SEE A DREAM-ISH WOODED WORLD WHERE ROGERS HAS A BEARD, WINTER SOLDIER HAS TWO ARMS, AND WHERE RED SKULL IS ODDLY TORTURED LOOKING AND EXTREMELY INSANE TALKING NONSENSE. HOWEVER THE CLUE ABOVE IS "LOOSED FROM THE SHACKLES OF PAST, PRESENT, FUTURE- A PLACE WHERE TIME HAS NO MEANING!" DESPITE THE BAD GRAMMAR, THIS DOES ADD UP AS TIME DOESN'T SEEM TO HAVE MEANING IN BOTH SECRET EMPIRE AND GENERATIONS. SO NOTHING'S CLEAR YET WE HAVE TO SEE WHEN SECRET EMPIRE ENDS WHAT IS GOING ON. SO BASICALLY I THINK THIS PLACE IS THE VANISHING POINT.
MOVING ON!
GIFTS AND CURSES
No, not the Yellowcard song on the Spider-Man soundtrack, In Generations: The Strongest, Amadeus finally learns what it means to be a Hulk, as he has looked at him becoming Hulk as a gift, Banner tells him it's a curse. Which is entirely true, and will most likely have a huge impact on Amadeus moving forward. also, The Vanishing Point is apparently a gift, which makes think that in the efforts that the heroes take in Secret Empire help them save
Rogers, but send them to Vanishing Point also, leaving them finding their counterparts. This however does have a loophole, as the teenage heroes are indeed alive and are the few alive that appear in Secret Empire, it makes sense, but where are the others? Hawkeye, Peter Parker, The rest of the X-Men, etc.
ONE SMALL LEAP FOR MARVEL, ONE GIANT LEAP FOR HULKKIND
Generations is making Legacy work. Generations delivered a Hulk comic that feels and looks like a Hulk comic, As well as definitely returns The Hulks to their roots, This is one step closer to a working legacy. You can see my reasoning on why Legacy might not work here: WHY MARVEL'S LEGACY INITATIVE REALLY WON'T WORK
OVERALL RATING
4/5 HULK SMASHING